Sri Lanka – Pearl of Indian Ocean
Yes! Dreams do come true. I was so much fascinated by the sheer diversity & beauty of Sri Lanka that it was on my bucket list for a long time. Finally last year I was able to make it to this wonderful small Island country located just below India in Indian Ocean. Formerly known as Ceylon and now it's often called as ''Pearl of the Indian Ocean''.
There is so much to see and enjoy in this charming island nation that has everything to offer to travelers. From its UNESCO world heritage sites to modern cities, from white sandy beaches to cool central highlands, from various plantations to dense Jungles, from popular ancient Buddhist temples to its world renowned wildlife.
Now let me take you to a virtual journey through Sri Lanka which I did last year. Here is my day to day itinerary and experience that I am so happy to share with you.
Colombo – Minneriya – Habarana – Sigiriya – Polonnaruwa – Habarana – Kandy – Nuwara Eliya – Galle – Colombo
Day 01: I arrived at Bandaranaike International Airport in mid afternoon with some eye catching countryside views from my window seat during landing. I was now damn sure that I have landed in a paradise full for bountiful natural sceneries. After coming out of Airport I met my guide and believe me this was the best welcome I had ever received. The guide was so cool and I was flattered by his simplicity.  Later he dropped me off to a spread out gorgeous Tamarind Tree Hotel. I was overwhelmed to stay in a Chalet. Soon after check-in I could not resist myself to dive into the huge swimming pool of Hotel and enjoyed the water for next 01 hour.
After taking some rest for few hours I decided to go out of Hotel for a stroll, explore the nearby sights and meet the locals. This was a free evening where I had umpteen fruits and juices. On my return I had a light dinner and it was time to take rest after a long & busy day.
Day 02: This morning I departed early for the 04 hours drive straight to Minneriya National Park. On arrival at Park I realized that our Jeeps were already ready for the afternoon Safari. Then after getting permits it was time for 03 hours of adventure into the National Park. Minneriya National is famous for the spectacle of largest gathering of Elephants on Earth and lucking I was able to witness some sort of it. It was an incredible experience to witness large herds of Elephants on the shores of Minneriya Lake and its really hard to express that emotion. Elephants were roaming around and regularly crossing and blocking our pathways. I enjoyed the scenes till the very sunset time. The National Park is widespread with grasslands, lakes and forests. If you want to see herd of Elephants in wild & natural habitat then Minneriya is certainly the place to be visited.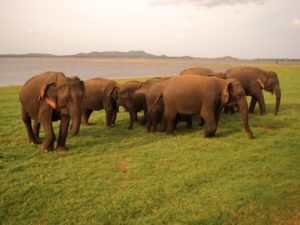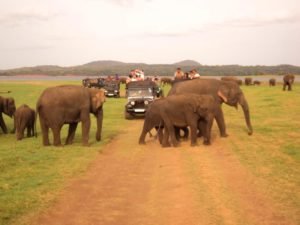 After finishing the Safari it was time to head to Habarana where my stay was in Habarana Village By Cinnamon Hotel.
Day 03: This morning it was time to do the most exciting part of the trip – Climb Sigiriya Rock Fortress also called as Lion's Rock. Sigiriya – is home to the 5th Century "Fortress in the Sky" which is perhaps the most fantastic single wonder of the Island. It is also known as Lion Rock because of the huge lion that used to stand at the entrance to the fortress. Within its triple-moated defence the huge rock rises almost to a sheer height of 600 feet.
It took 45 minutes to reach the top of the fortress and on reaching atop you realise why you are here. It was windy and you can take bird's eye view of the incredible landscapes. After spending one hour in peace it was time to come down and move on to the next sightseeing.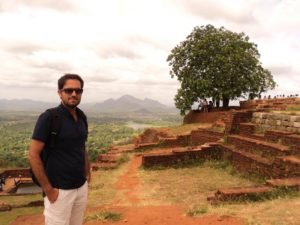 In the afternoon we visited the ancient city of Polonnaruwa which is also a UNESCO World Heritage Site. It was the 2nd capital of Sri Lanka after the fall of Anuradhapura. It was an amazing place of incredible historical significance.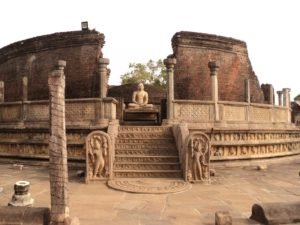 Day 04: Today it was time for a drive into the central highlands of Sri Lanka. On the way I visited Matale Spice Gardens and had a great learning about the herbs and spices of Sri Lanka. I was introduced to different spices and shown how some of these spices are grown and processed.
We reached Kandy in the late afternoon and checked in to OZO Kandy Hotel.
In the evening we made a visit to the Cultural Center to witness a display of colorful traditional dances of Sri Lanka.
Day 05: This morning we visited Temple of the Tooth Relic. It's a must visit and historic temple in Sri Lanka. It is considered Sri Lanka's most prized possession.
Later it was time to drive to Nuwara Eliya known for tea plantations. On arrival in Nuwar Eliya we visited a tea factory where I learnt the processing & packaging of tea leaves. Later I visited the lush green tea plantations which are a complete delight to watch. The endless stretch of green shades easily wins hearts of every traveller. It a real treat to the eyes and one has to see it on a trip to Sri Lanka.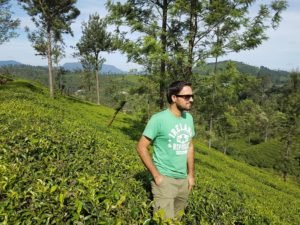 Then it was time to check-in to my Hotel called Araliya Green Hills Hotel.
Day 06: Today it was time for 05 hours long drive to coastal town of Galle. The drive was absolutely scenic passing through dense forests and villages of Sri Lanka. We reached Galle around 1600 hrs and on arrival it was time to visit historic Galle Fort. It was built first in 1588 by the Portuguese, and then extensively fortified by the Dutch during the 17th century from 1649 onwards. It is a historical, archaeological and architectural heritage monument.
It was truly a gem in the history of Sri Lanka. Located on the sea shore this fortification will take back you in time and you will feel you are living in the colonial era. Certainly this is not to be missed attraction on your trip to Sri Lanka.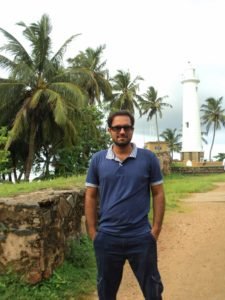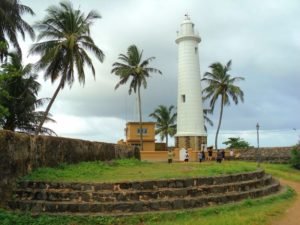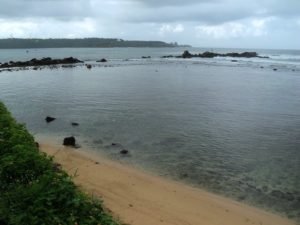 It was really a tiring day and finally reached Hotel. The gorgeous property was located sea side and a must stay Hotel. It was Amari Galle Hotel.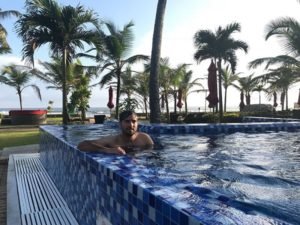 Day 07: Today we returned to Colombo which is just 02 hours drive and checked in OZO Colombo Hotel.
In the afternoon I went for a Colombo city tour. We drove through the city and saw the busy commercial areas, tree-lined residential areas, markets, main attractions and sea side views. The city is tremendously developing and China is hugely investing into it.
Day 08: Today sadly it was time to return. I reached Colombo International Airport in the morning for my flight to Delhi
If you are planning a trip to Sri Lanka then please do not hesitate to contact us at +91 9871340295 or email us at wemusttravel@outlook.com
To see our full Album on Facebook, please click on the link below:
 https://www.facebook.com/media/set/?set=a.1786734101406574&type=1&l=7d4434c73a