Maheshwar – Mini Varanasi of Central India
The magical and mystical medieval town of Maheshwar is located in Madhya Pradesh state of India. It is known for its cultural, historical and religious importance. This was one of the town that was always on my bucket list. It's a town steeped in history and known for the legendary queen Devi Ahilya Bai Holkar who ruled this place in 18th century. Today her residence along with entire fortification is called Ahilya Fort complex. The Fort complex houses Palace, temples, cenotaphs, Hotel, restaurants and River banks. Apart from history it's a place of incredible natural beauty too as it's located on the banks of Naramada River. This makes this place very fertile with full of plantations and rich agricultural lands. Narmada River is sacred and the lifeline of Central India.
On my business trip to Indore I could not resist myself to visit this town so I did a day trip to Maheshwar from Indore. Maheshwar is 90 Km (02 hours drive) from Indore and can easily be done in a day but if someone has more time in hand then I definitely suggest to stay in Maheshwar for at least 02 nights. The best Hotel to stay in Maheshwar is Ahilya Fort Hotel. Ahilya Fort Hotel is a heritage property that houses 19 rooms of character, set in six buildings of the 18th century, with modern amenities and comforts. Guests stroll through 3 acres of courtyards, fountains, and gardens. The Hotel is well located to explore the highlights of Maheshwar, including its bustling village markets and riverside complex of temples and cenotaphs.
I reached Maheshwar around 1000 hrs and hired a local tour guide at the main entrance of Fort. I was damn sure that without a guide I would not be able to learn the history & struggle of this place. So my decision was truly worthy.
As soon we were ready to start the tour the monsoon rain started to pour down and we had to wait under the main entrance gate for rain to stop. This was normal phenomenon during monsoon season here and luckily after 30 minutes rain stopped.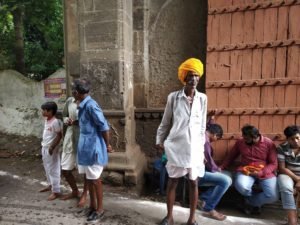 As you enter the main gate you will find a cool restaurant on your right side. We were not hungry so instead we proceed through the pathway to enter the Palace of Queen Ahilya Bai Holkar. The entrance had a charming massive gate and it deserved an entry pic.
This gate is also entrance to heritage Hotel that was recently converted into Hotel. The Hotel houses 19 Rooms of unique characters. Then we continued to the inspiring statue of Devi Ahilya Bai Holkar which was built in one of the gardens of the Fort. It was really great know from my guide about Maharani's contribution towards the welfare of its people. She devoted all her life in the well being of people and doing social-religious works across India throughout her life. My guide made sure I visited her audience hall, her sitting place, her Room and place of her worship. It was truly a great feeling.
Then it was time to come out of Place and see the temples, cenotaphs and River Bank. As soon as you exit the Palace you see the sights of Narmada River and temples. I was completely thrilled to see the architectural wonders of Shiva temple.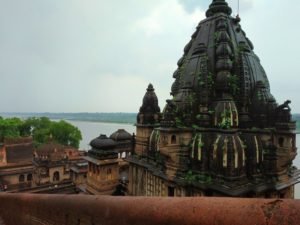 After visiting temple I stepped down to River Bank from where you see the clear and majestic view of Narmada River. You realize the beauty of this fortification when you see the entire complex from River Bank. It was time for me to explore the River Bank and take aplenty pictures.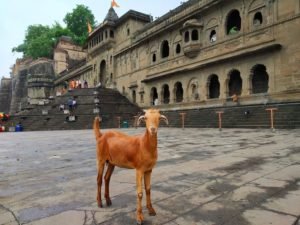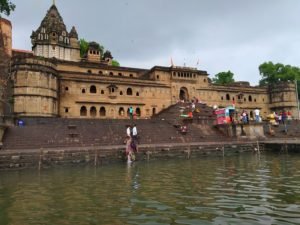 Then I decided to opt for a 30 minutes boat ride of Narmada River. This turned out to be the highlight of my trip. I was able to get some breathtaking views of Narmada River that is almost 01 Km wide here in Maheshwar.. Narmada River is a natural boundary between North & South India.
After an amazing time spent of Narmada Banks I visited a silk & cotton Saree weaving factory. Maheshwar is known for weaver community who have dedicated themselves in saree weaving. Its an old & traditional business here and was such a great experience to witness it.
Finally it was evening time and I had to say goodbye to this magical and mystical place. I promised myself to return to this place very soon. Narmada River truly won my heart.
If you are planning a trip to Maheshwar then please do not hesitate to contact us at +91 9871340295 or email us at wemusttravel@outlook.com