Honeymoon in Nepal
These days a honeymoon trip is as important as a marriage. While planning my honeymoon trip I decided to choose Nepal as my honeymoon destination. Tell you what it turned out to be one of the best decisions I (together with my wife Riya) have ever made in our lives. On my trip to Nepal I realized what an incredibly beautiful & charming country it is. The landlocked country in the lap of Himalayas offers everything to its visitors from rich cultural heritage to breathtaking wildlife, from ancient Hindu temples to the biggest Buddhist Stupas, from unparallel natural beauty to chaos of its cities, from highest peaks to deepest gorges.
Now let me take you to a virtual journey through Nepal which I visited in March 2017. Here is my day to day itinerary and experience that I am so happy to share with you.
Kathmandu – Nagarkot – Pokhara – Chitwan National Park – Kathmandu – Bhaktapur – Patan – Kathmandu
Day 1: I arrived at Tribhuvan International Airport in Kathmandu and the excitement was palpable as soon as our plane landed in. It was mid afternoon by the time we came out of Airport and we were welcomed with garland by our charming driver. This was the first time I ever got a welcome by Hindi speaking driver in a foreign country (perks of visiting Nepal). Thereafter we were driven straight to Nagarkot which is a small village located at an elevation of 2175 meters. It took us around 02 hours to reach Nagarkot on not so good roads of Nepal. We reached Nagarkot village around 1600 hrs and checked-in to our luxurious and perhaps the best property in Nagarkot – Club Himalaya Resort. The Resort was just an amazing property and I was so glad to stay in it for our honeymoon's first night.
Nagarkot is renowned for its sunrise and sunset views over Himalayas and soon after our check-in we realized the sun was about to set and we can not miss it so decided to come out of Hotel and walked up to a higher point from where we can watch it. The evening was perfectly set for a true nature experience. The setting sun, Himalayas in the background, sudden gust and quiet village atmosphere proved that yes it was an ideal start of our honeymoon trip. Then we returned to our Hotel and it was time to take rest.
One interesting thing we figured out in Nagarkot was every shop is liquor shop here. This was truly unbelievable and crazy.
Day 02: Next day we woke early morning to watch sunrise from our sprawling balcony. Although it was quite misty in the morning but still we managed to see the beautiful sunrise.
We had to get ready soon as it was to be a long drive from Nagarkot to Pokhara (approx. 07 hours). The breakfast at Club Himalaya Resort was so delicious and best we had in our whole trip.
We checked out from Resort around 1000 hrs and our driver was ready in the parking and we started our long drive to Pokhara. We made frequent stops on our way and thanks to our driver who knew exactly what kind of pictures we are looking for.
We reached Pokhara in the evening and I was completely awe struck by the sheer beauty of this Lake city – Pokhara. Pokhara is the adventure capital of Nepal and certainly the most planned, clean and charming city in Nepal.
We checked into our 5* Pokhara Grande Hotel and yes this was again a great experience for us. The property was quite big with different blocks of accommodation. We were given Himalaya facing Room and all we can say is thanks to the management. In the evening we decided to go for a walk on the lakefront to admire serenity of this lake city. Tell you what I have seen many beautiful lake cities but nothing like Pokhara.
Day 03: Next day we met our tour guide Deepak and departed for an early morning excursion to Sarangkot to see sunrise over Himalayas. I was really happy to see this sleepy village of Sarangkot and we were lucky to see full Annapurna Range, Dhaulagiri and Fishtail peaks.
After breakfast it was time to depart for Pokhara sightseeing. The town of Pokhara which is the second largest city of Nepal is a place of incredible natural beauty. The enchanting town has several beautiful lakes and offers stunning panoramic views of Himalayan peaks. The highlight of this sightseeing was Bindhyabasini Temple and a suspension bridge. All thanks for Deepak for taking us to this long suspension bridge over Kali River.
After Pokhara sightseeing we decided to chill out at Lakefront. We walked along the Lakefront and took a boat ride on Lake Phewa. If you come to Pokhara and do not go for a boat ride then certainly you have missed the best of Pokhara. That boat ride experience turned out to be one of the highlight of our trip. We also visited Tal Barahi temple which was on a small island within Phewa Lake.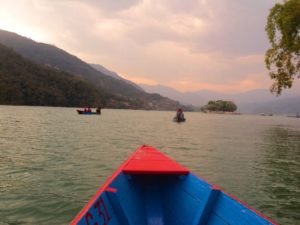 Day 04: This morning we woke up early as we had another long drive from Pokhara to Chitwan National Park. We departed from our Hotel at 0800 hrs and it was time for wild experience. After visit to two best hill stations of Nepal (Nagarkot & Pokhara) it was time to see wildlife of Nepal. It took us around 06 hours to reach Chitwan on the bumpy roads of Nepal (fortunately road work is completed now). All thanks to our driver who has fantastic driving skills and did not make us realize how tough the road conditions were. On our way we made sure to take frequent stops to click scenic landscapes with rice fields of Nepal's countryside.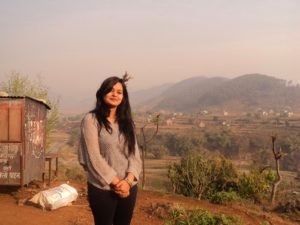 As soon as we arrived in Chitwan National Park we were so pleased and overwhelmed to see our wonderful Hotel – Safari Narayani Resort that had an amazing view of Rapti River from its cliff edge. We checked-in our Resort and soon after had a sumptuous lunch. We soon realized that we were the only two guests staying in Resort and that was confirmed by our Resort Manager Achut that yes its only two of us for today and tomorrow. This gave us such a special feeling of private and exclusive attention and services. This came as a big surprise as Resort was quite big in area and every corner of it was empty. Anyways we took that as an opportunity to explore without any disturbances.
Chitwan means 'the heart of the Jungle'. Chitwan is the first National Park of Nepal. It's the most popular Park in Nepal and a successful testimony of nature conservation in South Asia. Its story of protecting the population of Tigers and Rhinos is world known and most of the tourists who come to Nepal on a long trip hardly miss a visit to Chitwan National Park. There are more than 43 species of mammals in the park and famous fauna are gaur, wild elephant, four horned antelope, striped hyena, pangolin, gangetic dolphin, monitor lizard and python, chital, hog deer, barking deer, sloth, palm civet, wild dog, langur, Tiger, Rhino. rhesus monkey, etc.
Later in the afternoon we were taken to Elephant briefing session by our naturalist Harka where we were taught about daily activities of Elephants and their lifestyle. We had the opportunity to meet lovely Somukali.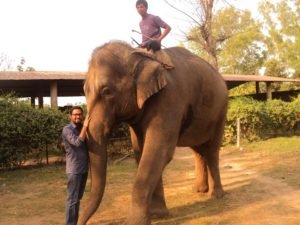 In the evening we were taken for an Ox cart ride in the famous Tharu village to know more about their lifestyle, culture, religion etc. Tharu are the oldest tribes in this region and has more than 100 years of history. We are so happy to see this beautiful village situated in the wonderful setting of Chitwan National Park.
Later we had our dinner with Resort Manager Achut & Harka with ongoing wildlife slide presentation to know more about Park's history, data and successful story.
Day 05: This early morning we went for the much awaited Elephant back ride. It was quite cold in the morning but that did not play an impediment in our eagerness to get into the core Jungle. We thoroughly enjoyed Elephant back ride and were really lucky to spot Chital, spotted deer, Sambhar, various species of birds, lizards, crocodile and Rhinos.
In the afternoon it was time for canoe ride on Rapti River and Jungle walking tour. The River was so clam and clean that we enjoyed exhilarating sceneries that we were able to witness either side of the River. We crossed the river and entered inside Chitwan National Park where we had the opportunity to visit Turtle Conservation centre and Gharial Conservation Breeding centre.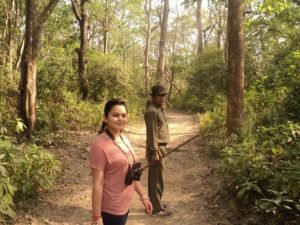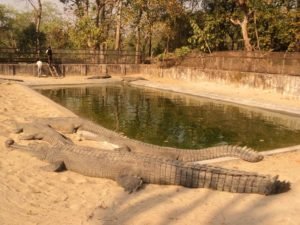 Later we returned to Resort on our canoe by evening.
Day 06: Today the day started with morning flight from Bharatpur Airport to Kathmandu. We have the highest respect and regards for Resort Manager Mr. Achut who accompanied us to Bharatpur Airport for our departure.
On our arrival at Kathmandu Airport, we were transferred to 4* Tibet International Hotel. It was a wonderful Hotel with Tibetan them inspired architecture that we loved so much.
In the afternoon we went for our Kathmandu sightseeing where we visited Boudhanath Stupa – one of the largest Stupas in the world, Swayambhunath Stupa known for its 365 steps and famous Pashupati Temple dedicated to Lord Shiva. The highlight of the sightseeing was certainly Boudhanath Stupa which was fully encircled by innumerable cafes, shops, restaurants and bars. The best part was you can go to the rooftops of these restaurants and take an aerial picture of Boudhnath Stupa with Himalayas in the background.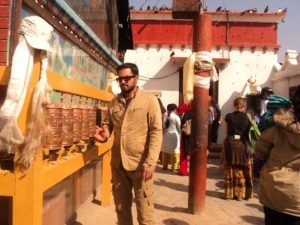 Day 07: Today it was time for day trip to Patan and Bhaktapur. Both the towns are popular for their deep cultural heritage charms. They offer true cultural experience to its visitors who get to see Darbar Squares, Hindu and Buddhists temples, arts, handicrafts, pottery works, galleries, monuments and souvenirs shops. Both the places are great examples of Newari style architectural masterpieces that showcase finest medieval arts of Nepal.
We also visited sites in Bhaktapur that we deeply affected by April 2015 Earthquake in Nepal that gave us some kind of dark tourism experience.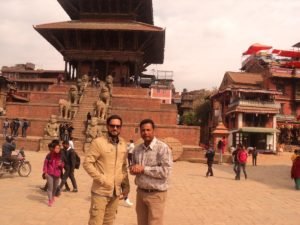 Day 08: This morning with a very heavy heart we said Goodbye to Nepal and took our flight back to India. As the tagline of Nepal Tourism Board says 'Once is not enough' so do we believe it and promise to return soon. We deeply thank to our drivers and tour guides for making our trip an unforgettable experience.
If you are planning a trip to Nepal then please do not hesitate to contact us at +91 9871340295 or email us at wemusttravel@outlook.com
To see our full Album on Facebook, please click on the link below:
https://www.facebook.com/media/set/?set=a.1295580850521904&type=1&l=c70b3d6de9