A Trip to Tiger Territory – Bandhavgarh National Park
Since my childhood I always dreamt of visiting Central India's National Parks because wildlife is undoubtedly its greatest attraction. There is so much noise about the dense Jungles of Central India that even Hollywood has started to make movies on it like the one recently released 'The Jungle Book' which was based on stories written by Rudyard Kipling. Rudyard Kipling was so much fascinated by stories of these Jungles that he decided to pen it down so that whole world will know how enchanting India's wildlife is. Although he never visited these forests on his own but he always heard the stories from his mates.
I was equally fascinated and finally decided to visit the most popular of all National Parks in Madhya Pradesh that is Bandhavgarh National Park. Bandhavgarh has always captured the imagination of craziest wildlife lovers because of the best wildlife experience it offers. This Park has one of the highest densities of Tigers in India.
Bandhavgarh National Park is located in the eastern Satpura Hills of Madhya Pradesh. Mythologically the name "Bandhavgarh" means Brother's Fort (Bandhav = Brother and garh = Fort). This fort was built and given to brother Lakshman by Lord Rama to keep a watch on Lanka. Bandhavgarh Tiger Reserve (It's also a Tiger Reserve) is of vital importance considering the diversity of its flora and fauna. The Tiger Reserve is known for the healthy population of tigers and variety of herbivores. This area is unique from the point of biodiversity as it comprises hills, valley, rivers, caves, marshes, grasslands and meadows. Apart from tiger, as many as 34 species of mammals have been listed and nearly 260 species of birds and 70 species of butterfly.
Now let me take you through this incredible journey day by day which I visited in January 2019.
Day 01: I arrived at Umaria Railway station around 0530 hrs in the cold and foggy morning of peak winters.  I met my driver in the parking who drove straight to Resort. It took only one hour on empty roads of Madhya Pradesh to reach Resort. On arrival I was warmly welcomed by Hotel staff and was really ecstatic to see my wonderful Resort called Bandhav Vilas.
The property was just out of a picture book and perhaps the best one can think of in a National Park. Nestled among the picturesque Satpura Hills & the natural beauty of the wilds, Bandhav Vilas is the luxury jungle Resort on the edge of the Bandhavgarh Tiger Reserve. Its location was perfect close to Tala Gate from where one can easily explore the territory of the majestic tiger. I checked in my Villa that was luxuriously charming and had contemporary interiors with traditional touches. Villa was really comfortable, spacious and modern.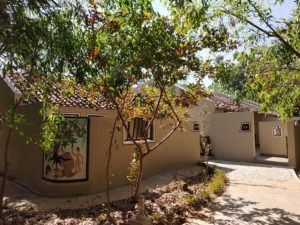 After breakfast I decided to go for a cycling tour of nearby village called Kuchwahi and was really charmed to see blue painted houses, wheat plantations, Mahua trees, temples and cattle everywhere. This was unexpected and a great rural experience to start my trip with.
Later after lunch it was time for my first afternoon Jeep Safari in Tala Zone of Bandhavgarh National Park. Our Jeep driver Ballu was a cheerful person and was equally excited to take us inside the Park. After 10 minutes driver we arrived at Tal Gate to submit our documents and then entered in the zone. The moment we entered inside it we realized how different the experience is. We could feel the calmness of pristine Jungle, sound of chirping birds, barking deer, alarms calls of monkey & langurs and sound of silence.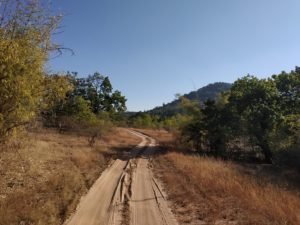 We thoroughly enjoyed our Jeep ride for next three where we saw Bandhavgarh Fort from back side; unfortunately visitors are not allowed to visit Fort now. Unluckily we could not see a Tiger but it did not disappoint me as a Safari experience is far more valuable and does not matter whether we see a Tiger or not. Seeing a Tiger is a matter of pure luck and it's more important to focus on holistic Safari experience rather than just a Tiger.  At the same time let's agree the hype of sighting a Tiger is justified and I knew that I have two more Safaris left.
Day 2: Today morning was free so I decided to explore Resort and its surroundings. Resort has a nice and sprawling courtyard with good sitting and dining options. Guests can easily relax and spend time. Well I decided to relax there in the midst of Mahua tree. Resort also had a organic vegetable farm where one can learn about farming and vegetables. It was so good to know that all food at Resort is cooked through these vegetables.
After lunch it was time for second Jeep Safari and this time it was in Magadhi zone. This was the best Safari as I was able to sight good amount of wildlife. I was lucky to spot Langus, Rhesus monkey, spotted deer, chital, sambhar deer, Indian Gaur and various species of birds.
At the end of Safari my driver Ballu suggested to go for a Elephant back ride. Initially hesitant I decided to go for Elephant Safari in the deep forest. This turned out to be my decision and believe you me YES I saw a Tigress called Solo. She had recently given birth to four cubs and was quite defensive and protective. This was perhaps the most beautiful creature I ever saw in my life and seeing a Tiger proved to be an exhilarating experience. She was hiding behind the dense braches and grasslands still I was able to take few pictures of her. I also realized she was as afraid of us as we were of her.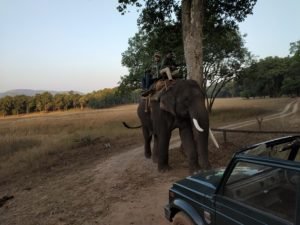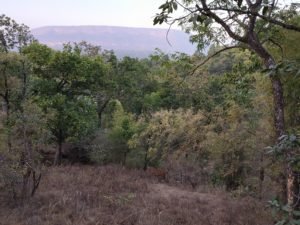 Later I returned to Resort and it was time of rest
Day 03: This early morning I had third & final Jeep Safari in Tala zone. It was quite cold and I was literally shivering. We reached Tal gate around 0600 hrs and it was still quite dark. I was waiting for sun to come out of sky and bring some temperature up. As soon as we started our Safari I realized morning is the best time to do it. It was again a wonderful experience and completely enjoyed my final Safari.
A visit to Bandhavgarh National Park is beyond is a Tiger sighting experience. It has different shades to it like history, wildlife, archaeology and geography. Today there are more than 50 Tigers in Bandhavgarh Tiger Reserve and this successful Tiger conservation story is a proof of its excellence & greatness.
In the afternoon I said goodbye bye to Bandhavgarh with a promise to return soon.