Ladakh – The Land of High Passes
Ladakh is a unique high altitude region located in the northern part of India and is now one of the newest union territories. Nestled between the Himalayan and Karakoram mountain ranges, Ladakh is known for offering unseen and spellbinding views. The territory is known for the other worldly landscapes, stunning natural beauty, centuries old monasteries, huge valleys, death defying mountain passes and exciting Buddhist culture. The barren and snow clad mountains of Ladakh are certain to take your breath away. It's a perfect place for nature lovers and true paradise for adventure seekers who love biking, trekking, backpacking and expeditions.
Most of us have dreamt to visit Ladakh once in our lifetime and so do I. It was only this year I was able to fulfill my long cherished desire and thoroughly awe struck by the enormous beauty bestowed upon me of this incredible region.
This widespread region is full of incredible diversity from near barren landscapes to snow capped mountains, from sparsely clad population to buzzing Leh city, from prefect roads to long stretches of rugged pathways. When you think of Ladakh, three things come to our mind – mountains, monasteries and monks. There is much more than what meets the eye or ears. Ladakh is far beyond and it will surprise you at every corner that you visit. The never seen landscapes, changing terrains (and they change within few kilometers), arid land, long swathes of valley, wonderful wildlife and nature preserved to its core are some of the few things that you will find here.
Now let me take you to a virtual journey through Ladakh which I visited this year. Here is my day to day itinerary and experience that I am so happy to share with you.
Leh – Nubra Valley – Pangong Lake – Leh
Day 01: I arrived at Leh Airport in the morning and was welcomed by my driver Motup who drove me to my Hotel called Nature's Land Hotel in Leh city. After check-in it was time to get acclimatized till late afternoon. Leh is located at an elevation of 3500 m so it's important for everyone to take rest on your arrival day and get acclimatized.
After resting for few hours it was time for brief Leh sightseeing. I started with visit to Shanti Stupa. It is a Buddhist white-domed Stupa on a hilltop from where you get stunning aerial view of whole valley.
After that it was time to visit Leh Palace. Leh Palace was built during the 17th century by the ruler King Sengge Namgyal. Its construction is on the same lines as the construction of the Potala Palace in Lhasa, Tibet. This 9-storey royal edifice is almost in ruins now, but is preserved as a part of Ladakh's heritage. An example of medieval Tibetan architecture, it has massive walls and wooden balconies. Ancient mural paintings adorn the interiors of this palace and speak of its golden bygone era.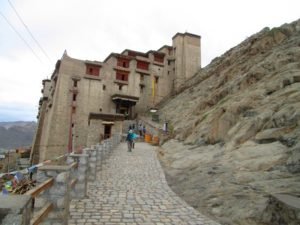 Day 02: This morning I got ready at 0800 hrs and it was time for 06 hours drive to beautiful Nubra valley via Khardung La (highest motorable road in the World at elevation of 5300 m).
The drive was not an easy one. It started snowing when we reached Kardung La and pass was closed for few hours. After waiting for 02 hours luckily weather got cleared and pass was opened. It took 04 hours from Khardun La to reach Nubra valley. On the way I saw some of the most mind blowing views of humongous valleys that seemed like a fairy tale.
I arrived around 1600 hrs and checked into Nubra Boutique Camp located in Hunder village close to Sand dunes. After one hour of rest it was time to visit the famous Sand dunes of Nubra valley and see Double humped Camel. I was lucky to get few pictures with Camels.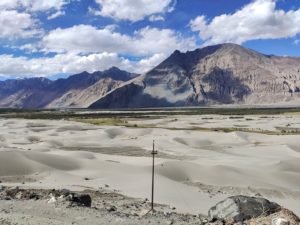 Day 03: This early morning I visited Diskit monastery that is located at a hilltop in Diskit village with incredible views of Nubra valley. Diskit Gompa is the oldest and largest Buddhist monastery in the Nubra valley. I made sure to spend time inside prayer hall to sit quiet and meditate. I also visited magnificent statue of Maitreya Buddha (Buddha of the future) that is located within the complex.
Later it was time for 07 hours drive to Pangong. The road to Pangong was gorgeous yet dangerous. There were quite a few incidents of landslides and we were lucky to escape it. The drive from Nubra to Pangong was one of the most nerve wracking and hair raising experience I ever had in my life.
On the way I also got a chance to take pictures with Himalayan Marmot. This was really crazy experience as Marmots were really friendly & unperturbed with my close presence.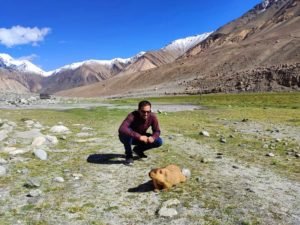 We continued our drive and reached Pangong around 1800 hrs and check-into Nature's Nest Camp. It was unbelievably cold and windy. I decided to have early dinner and rested inside the Camp to keep myself warn and fit.
Day 04: This early morning I spent some peaceful time alone on lakefront and realized the water of Lake Pangong is salty. The crystal clear water of Lake will leave everyone highly impressed with unparallel beauty of the Lake.
Today it was time to return to Leh city via Chang La. It took 06 hours to reach Leh city and on the way I visited Thikse monastery.
Visit to Thikse monastery was certainly one of the highlight of my trip. The monastery is located at an elevation of 3600 m on a hilltop in Thikse village. The multi storey monastery comprises of temples, Assembly Hall, monastic school, nunnery, central courtyard and souvenir shops. I made sure to go to the roof of monastery from where one gets eye catching views of the whole valley. You are bound to see barren and snow capped mountains with oasis of green cover. The views of the valley will leave you totally mesmerized and overwhelmed.
On arrival in Leh city, I checked into Nature's Land Hotel.
In the late afternoon I decided to see the left over sights of Leh. I visited Gurdwara Patthar Sahib that is located at a distance of 40 kms from Leh and was constructed in 1571 in memory of Guru Nanak to commemorate his visit to this region.
Also visited Magnetic Hill where you will see your car, with its engine turned off, move upwards on a steep slope. It almost sounds unbelievable.
Later visited Sangam where Zanskar River and Indus River merge.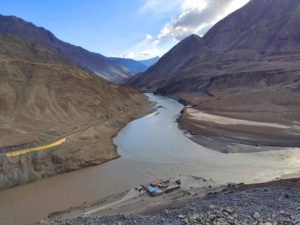 Then I ended my day with visit to local markets and bought few souvenirs.
Day 05: Today it was time to return to Delhi and with a very heavy heart I said goodbye to Ladakh and my friend Motup who told me so many stories that will remain forever in my memory.
If you are planning a trip to Ladakh then please do not hesitate to contact us at +91 9871340295 or email us at office@wemusttravel.in
 To see our full Album on Facebook, please click on the link below:
 https://www.facebook.com/hemantiger/media_set?set=a.2400477063365605&type=3