Bali Island – The beginning of a new journey
Bali is a breathtaking and picturesque Island that is part of Indonesian archipelago. It is also known as "The Land of Gods"due to the overwhelming Hindu temples throughout the Island. It's now popularly referred to Island Resort with rising influx of tourists every year. The Island is known for its sublime beaches, dense forests, dazzling wildlife, thrilling adventures, active volcanoes, lush green plantations, eye catching waterfalls, affordable accommodations and amazing hospitality. It's an ideal destination for beach lovers, divers, surfers, hikers and adventure seekers. The Island has wide range of Hotels, Resorts, Villas, restaurants, bars, spas, world class activities and Malls. There is something unique about Bali Island and it never fails to impress its visitors.
Off late it has become one of the most popular honeymoon destinations among Indian travelers. So I decided to plan my honeymoon trip to Bali for 07 days. This was our first trip together to foreign land and we call it the beginning of a new journey. In this blog I would like to share my Bali story briefly with the best pictures.
Day 01: We arrived at Bali Airport in the afternoon and we were met by our cool driver who took us straight to our Hotel. Our stay for first five nights was in wonderful boutique 4* The Rani Hotel & Spa. We were quite excited with the first impression of Hotel. The staff was very hospitable, services were at par, Rooms were spacious and food was just awesome with Indian cuisine available.
After some rest at Hotel it was time for evening romantic candle light dinner at Jimbaran Bay beach in Kupu Kupu Barong Jimbaran restaurant. On arrival at Jimbaran Bay we were awe struck by the magnificent beauty of its beaches. It was the first time we saw Sea in our life so the excitement was obvious and palpable.
Day 02: This morning after having delicious breakfast it was time for water sports activities at Nusa Dua beach that include Parasailing, Banana Boat , Jet Ski and Scuba diving.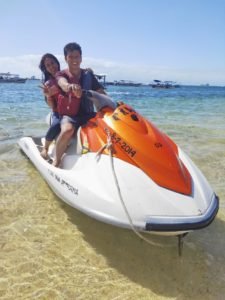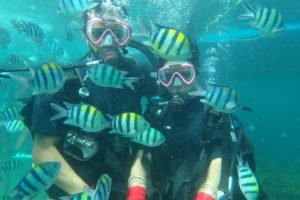 In late afternoon we were taken for visit to the famous cliff-hanging temple of Uluwatu temple. Perched on the edge of a steep cliff, the temple sits 70 metres above the crashing waves of the Indonesian Ocean. The temple is inhabited by a large number of monkeys, many of whom can be found roaming the pathways.
Day 03: Today it was time for full day Bali sightseeing. During this sightseeing we visited Kintamani village, Celuk village, Tegenungan Waterfall, Basanta Agro Plantation and Tegallalang Rice Field.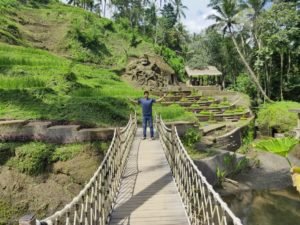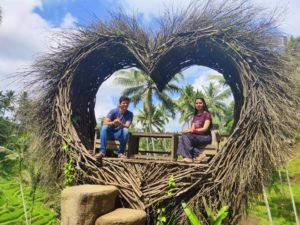 Day 04: This morning we were taken for tour of Tanah Lot Temple. Tanah Lot is probably one of Bali's most holy sites. Built in the 15th century, this seaside temple is perched precariously on an eroded rocky outcrop, connected to the shore only at low tide. As the tide rushes in, the islet becomes completely surrounded by water, adding to the mystery and beauty of the temple and its location. This fantastic setting, overlooking the azure waters of the Indian Ocean, has made it the best known and most photographed temple in Bali.
Thereafter enjoy lunch at Spice Mantraa Indian Cuisine Restaurant.
Rest of the day was free to relax
Day 05: This morning we tried awesome Balinese massage for 02 hours and felt to revitalized and recharged.
In the evening we went for sunset dinner cruise. The cruise was organised by Bai Hai company and it was such a great experience. This cruise excursion turned out to be the highlight of our trip.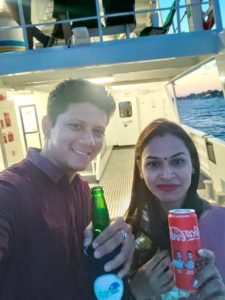 Day 06: This afternoon we check-out from our Hotel and were taken to our luxurious Villa. Our stay was in Kubu Manggala Villas Seminyak Villa for one night. This last night in Bali certainly turned out to be a great and memorable experience. We were truly spell bounded by the uniqueness of this Villa which had an huge private Pool for us. Th Villa has big bedroom, common area, a kitchenette, small garden and a private Pool.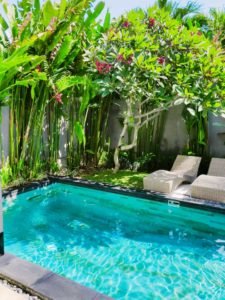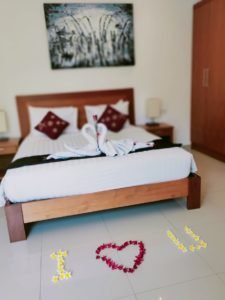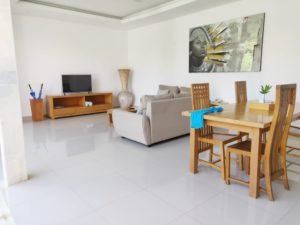 Day 07: This morning we were transferred to Bali Airport for our flight back home. Finally with heavy heart it was time to say goodbye to breathtaking Bali with incredible and lifetime memories with us.
If you are planning a trip to Bali or Indonesia then please do not hesitate to contact us at +91 9871340295 or email us at office@wemusttravel.in